KEYSTONE PRECISION SOLUTIONS
Hiring Reimagined: How myHR Partner Helped a Business Achieve Growth
In 2019, Pennsylvania-based
Keystone Precision Solutions
sought to
free up company leadership to focus on growth. This meant quickly filling several new positions with qualified candidates who would advance, not detract from, executives' bandwidth and goals
—
a daunting task on a competitive hiring landscape.
myHR Partner was retained to help. In the years since, we've strengthened Keystone's hiring through initiatives touching on workflow, strategy, and onboarding, among other contributions. As hoped, our involvement allowed Keystone leadership and sales to set their sights forward, leading to unprecedented company profit and growth. Here's the full story.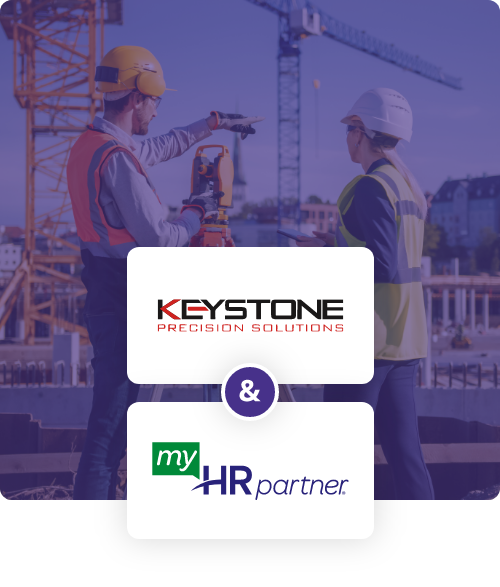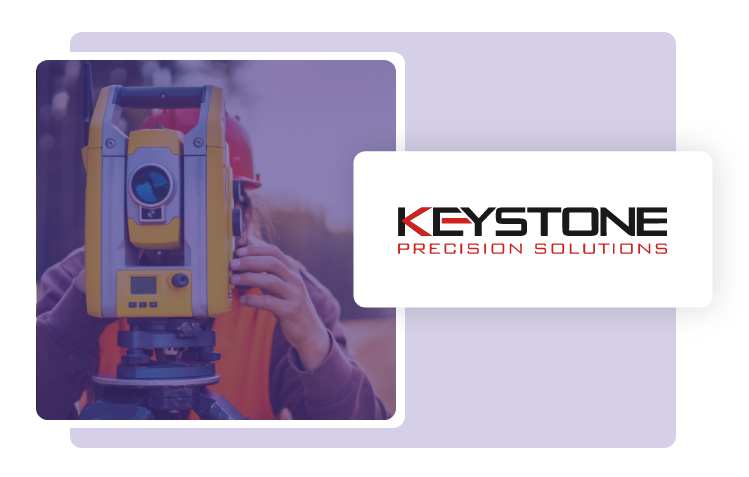 The Story of Keystone Precision Solutions
Founded in 1989, Keystone Precision Solutions provides surveying, construction, and engineering clients with the tools and equipment needed to get the job done.

Like many small companies, Keystone's corporate controller handled all HR-related responsibilities for years. By 2019, though, with multiple offices and a growing geographic territory, it was clear that the controller — and executive team members who'd been picking up HR overflow — needed added support.
The Challenge
Leadership wondered: Could they possibly find an outsourced HR partner who'd get to know and effectively grow Keystone and its caring culture — in a highly specialized industry, across far-flung geographic locations, and on a timeline, no less?

Having heard great things about myHR Partner, a fellow Lehigh Valley business, Keystone Precision Solutions reached out.

myHR Partner's Process
myHR Partner's engagement with Keystone Precision Solutions kicked off with a comprehensive audit. It revealed several areas for improvement: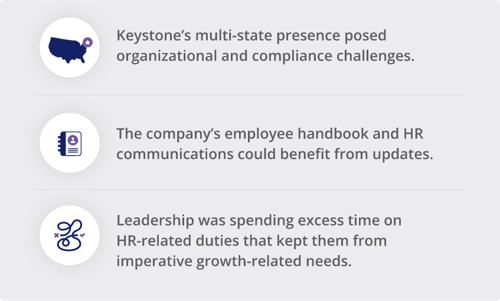 The remainder of Keystone's hurdles were explicitly hiring-related, ranging from limited outreach to a slow screening process (Keystone frequently lost candidates to competitors who moved faster). Add an onboarding process begging for standardization and modernization, and the company's hiring barriers were well-founded.

"The audit outcome was sobering. Still, it was immediately apparent that our challenges could be overcome with myHR Partner by our side," says Chuck Kuczynski, Keystone Precision Solutions Executive Vice President. "myHR Partner made it clear that improvement would be a journey, not a destination — that HR is an evolving discipline that works from the top down, and that they'd guide us while keeping our preferences front and center."

Then, weeks after the audit, the COVID pandemic hit, heightening Keystone's existing challenges and introducing new ones. myHR Partner wasted no time getting to work.

myHR Partner's Solution
myHR Partner initiated a multi-pronged hiring management overhaul, working with Keystone to update and create new on-brand PTO policies and benefits likely to attract strong talent. These included inclusive holidays, paid days off for volunteering, and life insurance.

Job profiles were updated and standardized, as was the applicant screening process, which was modernized with the addition of video interviews.

Onboarding got a major boost, too. myHR Partner helped leverage Keystone's existing HRIS system to create a cloud-based onboarding process that allows electronic completion of new hire documentation, benefits forms, task lists, and other related items. With this program, leadership can readily track progress and completion.

Last but not least, today all Keystone hires complete an employee orientation led and developed by myHR Partner.
"myHR Partner professionalized and elevated our job offering and hiring process to include things we'd never even considered — things that show the value of working for Keystone Precision Solutions beyond the dollar and that standardize the employee experience," says Miguel Colom, Vice President of Services. "Now, when they leave orientation, new hires have everything they need to be successful."
Beyond hiring, myHR Partner implemented several more much-needed improvements, as well. To ensure legal compliance in each state where it operates, myHR Partner sends Keystone monthly compliance updates and alerts whenever laws and regulations change. Most recently, myHR Partner and KPS worked hand in hand to update the employee handbook.
"The handbook development process was actually quite fun. It brought us face-to-face with how we've grown and evolved," Colom says. "More importantly, it leaves no room for confusion."
myHR Partner's Results
Amidst a pandemic and a fierce hiring market, Keystone Precision Solutions hit its hiring goals in 2020.

Even more impressive is the quality of those hires. Attitude and aptitude have been spot-on – a win for retention. KPS' current turnover rate is less than ten percent.

Keystone executives are now able to focus on growth initiatives instead of HR. The result? A dramatic increase in sales and revenue since 2020.

myHR Partner continues to operate as Keystone Precision Solutions' outsourced HR department, helping to fill roles throughout their company and suggest other improvements as needed.
"myHR Partner's efficiency, and the value of that efficiency, can't be overstated. It allows us to conserve internal resources who can now focus on key priorities like new technology, revenue enhancement, and cost mitigation while myHR Partner handles all aspects of HR," Kuczynski says. "myHR Partner's functional ownership of our human resources needs — hiring especially — has been key to where we are today."