ARTSQUEST
How Sweet the Sound:
Strategic and Scalable HR for an Arts Non-Profit
Like all non-profits, Pennsylvania's
ArtsQuest
has unique HR needs – including robust seasonal hiring for its 10-day Musikfest, attended by more than one million music fans each summer.
Unsure how to improve HR in-house, the arts organization enlisted myHR Partner for support in 2022. Together, we landed ArtsQuest's HR rhythm, elevating processes and protocol around everything from hiring to payroll to compliance – then custom-building a human resources information system (HRIS) that synthesizes it all.
Here's the uncut story.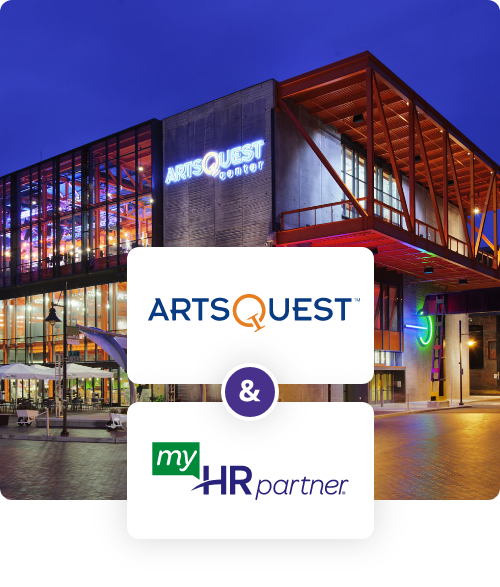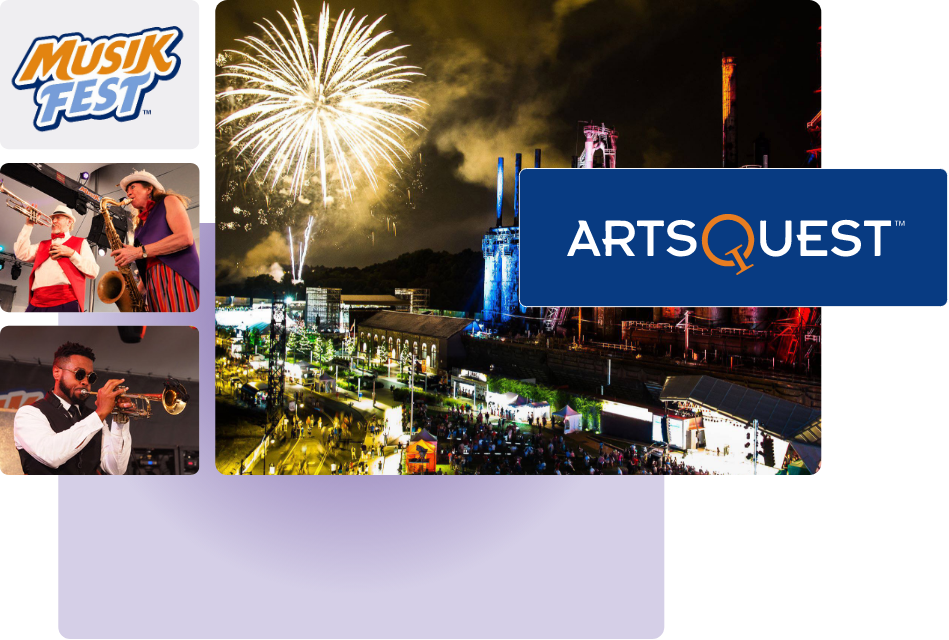 The Story of ArtsQuest
Pennsylvania's Lehigh Valley loves ArtsQuest. The non-profit's 10-day flagship event, Musikfest, draws top artists and worldwide audiences to the region each August; its larger artistic, cultural, and educational experiences reach almost 2 million people annually. While more than half of ArtsQuest's programs and events are free, the organization produces an annual regional economic impact of more than $136 million.
Even more, ArtsQuest has an average annual social impact of $100 million, evaluated by assessing intangibles such as audacity, connectivity, capacity, ingenuity, tenacity, and diversity to measure what has long been considered unmeasurable: social capital made up of community, civic, human, and intellectual capital. Read the full ArtsQuest ProSocial Report here.
The Challenge



In 2022, ArtsQuests' two-person internal HR team was staring down several HR-related challenges.
They desperately needed a stronger hiring strategy and hiring process, for seasonal hires especially. Musikfest and other ArtsQuest events require some 220+ seasonal employees – a number almost three times the organization's 75 full-time employees and 70
part-time, year-round team members.
Even more, HR processes across the board were lacking: Payroll was disorganized. Management sought guidance on issues from
performance to employee relations. Compliance lacked expert oversight. Further complicating it all, ArtsQuest's third-party human resources information system (HRIS) was tough to navigate and short some necessary functions.
In an interesting twist, though, ArtsQuest wasn't looking for a complete HR handoff to an outsourced partner. Rather, they hoped to train and grow their own internal HR department to handle these and other HR matters moving forward – and sought an outsourced HR partner who'd help them do exactly that. It begged the million-dollar question: Would any reputable outsourced HR entity be willing to work with ArtsQuest in this unique manner?
Joann Lee, ArtsQuest's Vice President of Administration, Risk Management, and Board Relations, called myHR Partner CEO Tina Hamilton. Joann wasn't sure how myHR Partner would feel about a relationship designed to scale down over time.
"No business wants to hear that!" she says with a laugh. "But when I sat down with Tina and myHR Partner, they not only understood our reasoning, they were responsive."
myHR Partner's Process

Before delivering what ArtsQuest wanted, myHR Partner embarked on a quest to more clearly understand what ArtsQuest needed – a process that proved insightful and fruitful.

"The questions myHR Partner asked us in our first meeting revealed needs we hadn't considered," Joann remembers. "myHR Partner's expertise and process underscored why we'd reached out to them in the first place. We didn't know what we didn't know. And in human resources, oversights are liabilities."

With a newly-minted understanding of problem spots, myHR Partner began managing and improving ArtsQuest's payroll, management
support, and compliance, while also showing ArtsQuest the ropes in preparation for an eventual handoff.
Payroll was up first, as ArtsQuest's is inherently complex. Prior to myHR Partner's involvement, the various job codes tied to ArtsQuest's timekeeping system sometimes led to errors and omissions that impacted pay. myHR Partner implemented best practices that streamlined the process, reducing processing time and eliminating the lion's share of errors- ensuring on-time, accurate pay for ArtsQuest employees. These included the adoption of a standardized document for recording and tracking payroll changes, leveraging payroll technology to reduce and eliminate manual tasks, and adding additional review and reconciliation steps.





In terms of management support, myHR Partner began serving as leadership's sounding board for matters ranging from sporadic people issues to umbrella practices, policies, and benefits, including ArtsQuest's 403(b) retirement plan. myHR Partner examined and evaluated all of the above, offering suggestions and improvements. Execution of changes was well-documented; refinements continue as needed.

Last, but certainly not least, were needs related to compliance. Like many non-profits, no one at ArtsQuest had previously been designated to stay abreast of federal, state, and local regulations and laws (changes to which have been rapid and plentiful in recent years). myHR Partner audited ArtsQuest's realities against current regulation and highlighted areas for improvement – gaps that might have otherwise slipped through the cracks and resulted in penalties.

Amidst all of this, myHR Partner and ArtsQuest jumped headfirst into seasonal hiring for Musikfest 2022, on a tight deadline, no less.
myHR Partner reviewed and improved ArtsQuest's hiring process, training ArtsQuest managers on stronger hiring practices and techniques while working fast to fill necessary seasonal roles. It's important to note that ArtsQuest hiring managers retained ownership of actual hiring choices – key to great outcomes in a new partnership.
Once candidates accept job offers, myHR Partner took over, taking new employees through a dramatically tightened onboarding process ensuring all required information was complete, compliant, and timely before an employee's start date – key to preventing compliance breaches. Constant communication with the ArtsQuest team meant nothing was missed and went a long way toward establishing great trust and rapport.

"Before, we were floundering left and right, up a hill, down a hill," Joann says. "Once we enlisted myHR Partner, they said, 'Here's how you do it.' – and showed us the way. The difference has been night and day."

Seasonal roles were filled. New hiring and onboarding standards were established. Musikfest 2022, with Counting Crows and Willie Nelson & Family among its headliners, was a rousing success.
myHR Partner's Solution



As planned, myHR Partner began custom-building ArtsQuests' human resources information system (HRIS) – an all-in-one solution on UKG Ready that streamlines tasks for both myHR Partner and ArtsQuest's HR team.
For a year following the build, myHR Partner guided ArtsQuest through the activation of one HRIS module at a time until all tasks had been integrated.
The completed system automates data organizing, tracking, and reporting across exempt and non-exempt employees. It also streamlines payroll, hiring, benefits administration, leave administration, time off, and performance management. Above all, the HRIS lets ArtsQuest and myHR Partner work together with unprecedented efficiency and goes a long way toward ensuring compliance.
myHR Partner's Results
Meanwhile, behind the scenes, ArtsQuest was experiencing a change of heart: Though they'd planned to scale down reliance on myHR Partner over time, they were experiencing firsthand the value of myHR Partner's expertise. And so, in early 2023, ArtsQuest changed course. They asked myHR Partner to continue providing payroll, management support, and compliance assistance services indefinitely.
Training by myHR Partner has refined the tasks ArtsQuest handles in-house. Processes established by myHR Partner have created consistency across it all.
myHR Partner handled all aspects of onboarding once again for Musikfest 2023, which boasted a record high number of seasonal employees and record attendance. Onboarding was even more streamlined in 2023 thanks to the newly integrated HRIS.
"Whatever ArtsQuest has asked of myHR Partner, even when we weren't sure what we were asking – they've found a way to take it on, help us out, and make sure every last detail is compliant, fine-tuned, and organized," Joann says. "myHR Partner is collaborative and the best at what they do. We couldn't ask for anything more."